Shiitake Burgers
Our shiitake burger is ideal for vegetarians, as well as those who desire a delicious and hearty meat-alternative to enhance their normal diet.
To flavor our shiitake burger, we use the old-fashioned, labor-intensive, and time-consuming way of naturally smoking it with hardwood logs. No liquid additives or artificial flavors are ever used.
By using primarily shiitake mushrooms in our burger, we are supporting the use of sustainable agriculture for the betterment of our environment.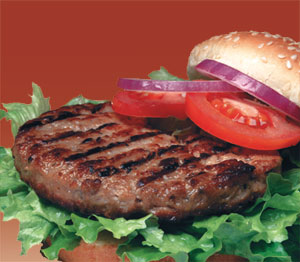 Our shiitake burger is:
High in protein
High in dietary fiber
Low in fat
Cholesterol-free
Dairy-free
MSG-free
Naturally smoked
All-natural
The high quality shiitakes we use in our burgers are naturally grown on solid oak logs in a natural forest setting. While recent technology uses simplified techniques of cultivating shiitake mushrooms on "artificial logs," we painstakingly grown our shiitake on hardwood logs.